top cleaning tips for

Kitchen tiles
It's always satisfying to know that you've given your kitchen a thorough clean from top to bottom! But are you cleaning every single part of the room in the right way?
‍
We all know that there are cleaning products specifically designed for ovens, washing machines, crockery, cutlery and pans, but do you pay as much attention to choosing the right cleaning products for your kitchen tiles?
‍
Cleaning your kitchen wall tiles and floor tiles in the right way, and with the right products, will not only ensure that they're sparkling clean, but it could also protect them and make them last for longer. The best products for the job will depend on which type of tiles you have in your kitchen.

Cleaning Porcelain & Ceramic Kitchen Wall Tiles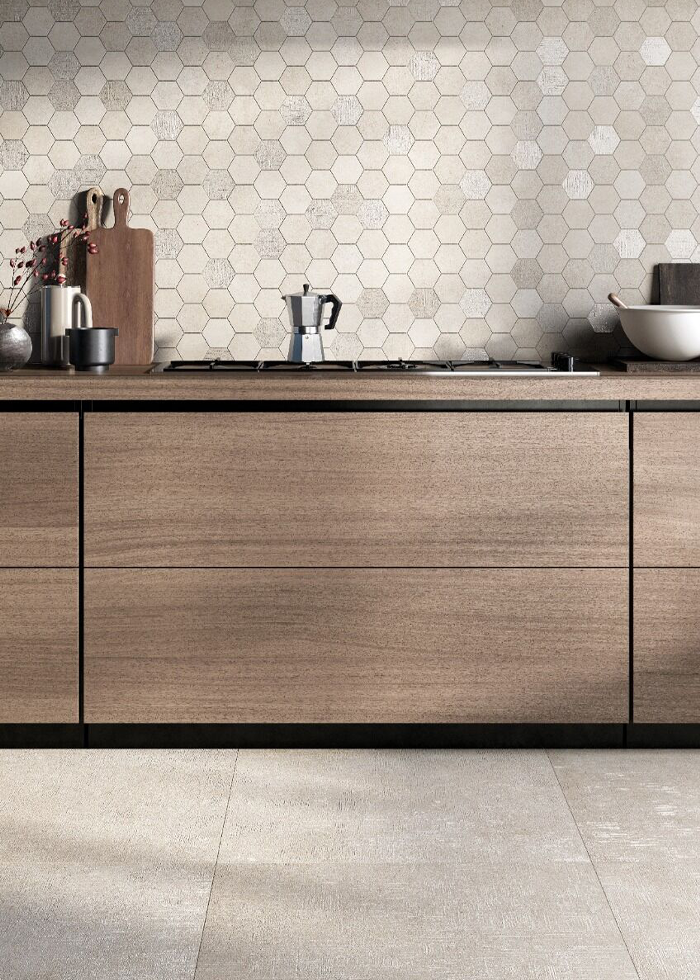 Ceramic and porcelain kitchen wall tiles are among the most common choices for wall tiles and splashbacks in the kitchen. For both, it's worth dusting them down with a duster or a soft-bristled brush first to remove any surface dirt.
‍
The heat treatment that is given to porcelain and ceramic kitchen wall tiles when they are made is what makes them water-resistant, and if you constantly use ammonia or bleached-based cleaners on these surfaces, it can not only wear away the top layer of tile and make them less water-resistant, but it can also damage the grout in between. Instead, simply use warm water and a soft sponge. If they need something more, use a little detergent (following manufacturer instructions) diluted with warm water instead. Be sure to wash off the detergent thoroughly afterwards to avoid streaks.

Alternatively, choose a cleaning product specially designed for porcelain or ceramic tiles.

Greasy Splashbacks
If you have a tiled splashback behind your hob, it's likely that it will build up a significant amount of grease over time. In this situation, follow the same steps as detailed above, but after dusting, consider using a degreasing product first.
‍
This could be a chemical-based degreaser, or a natural alternative if you are looking for more eco-friendly kitchen cleaning solutions. One option is a citrus oil, either orange or lemon, which you simply need to apply to the surface of greasy tiles before wiping off with warm water and a cloth or sponge.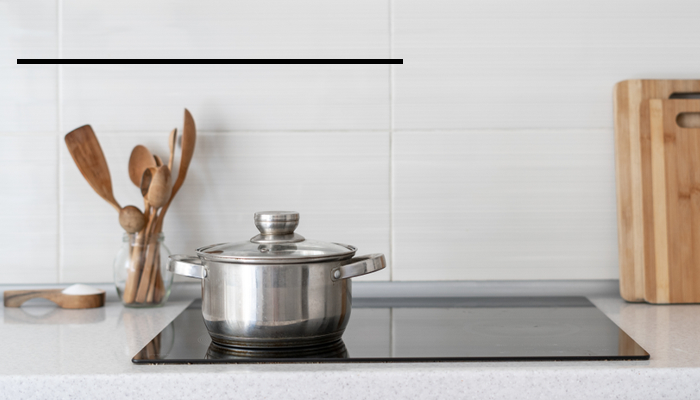 The Best Way to Clean Tiled Kitchen Floors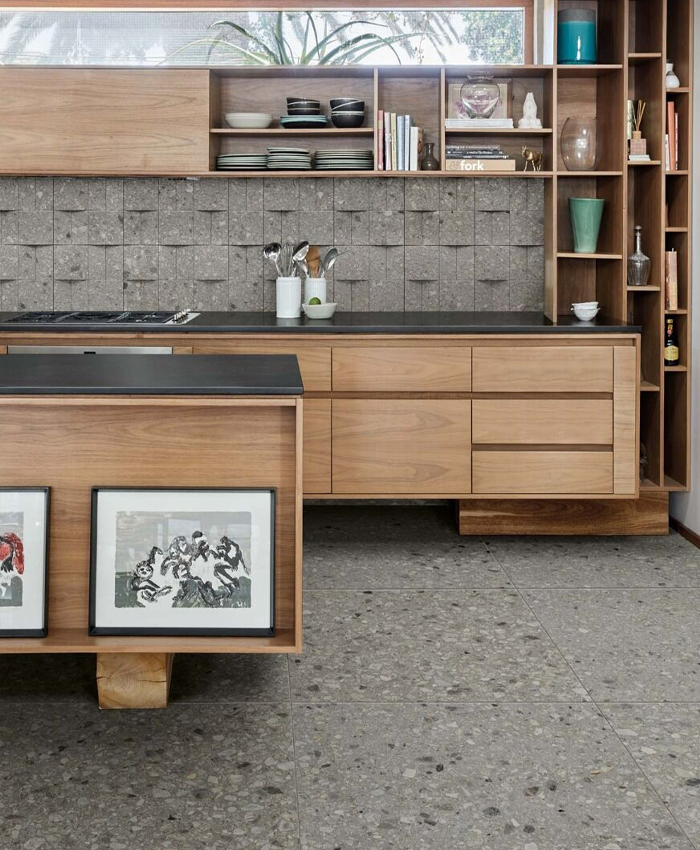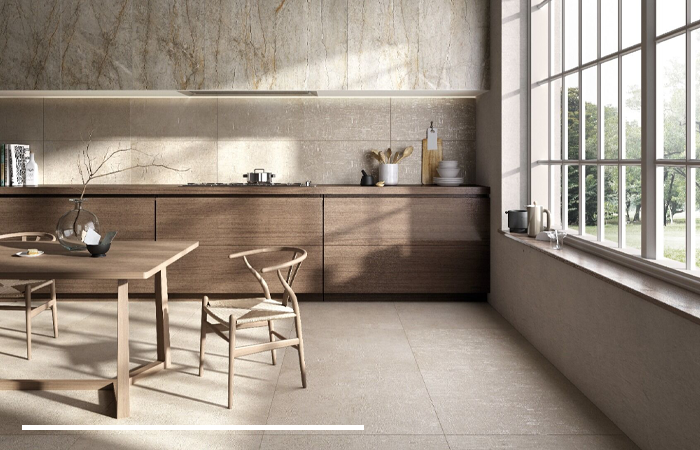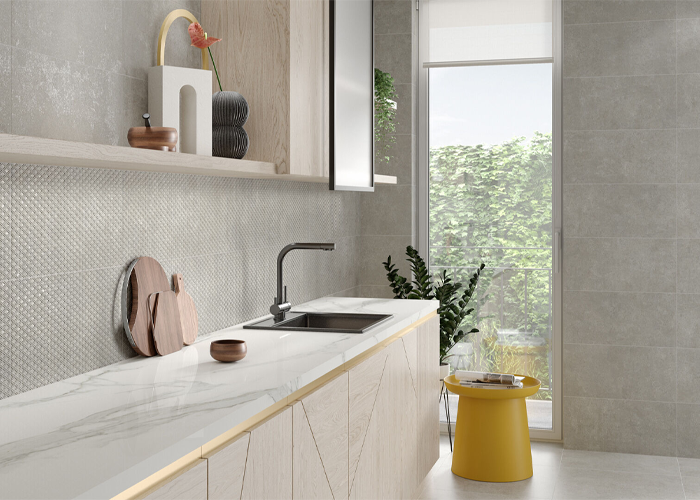 Porcelain kitchen floor tiles can be cleaned in the same way as their wall-based counterparts; just vacuum or sweep well first, then opt for a mop instead of a sponge to make the task easier. If you have high gloss porcelain tiles on your kitchen floor, use half the amount of detergent to the same amount of water, and if you have textured tiles that can retain dirt more easily, leave the solution to soak them for ten to fifteen minutes before washing off.
‍
Natural stone tiles, meanwhile, need to be cleaned and maintained regularly to keep them in perfect condition. Start, as with other floor types, by vacuuming or sweeping. But bear in mind that many of the standard cleaning products will be too acidic for natural stone tiles, and can damage either the sealant or the tiles themselves.
‍
Instead, look for pH-neutral cleaning products that are designed specifically for natural stone, before diluting as per manufacturer instructions and cleaning. Avoid using scouring pads or hard-bristled brushes on natural stone tiles, as they can damage the stone: if they have ingrained dirt, simply make a more concentrated cleaning solution and leave it to sit for a few minutes before cleaning as normal.

Your kitchen tiles work hard to protect your kitchen walls and floors, so it's important that you care for them in the right way: using the right cleaning products and the right tools to keep them looking great and doing the job they're there for in the years to come.